On the quest to invisibility and cloaking
One of the most exciting applications of
metamaterials consists in the
possibility of suppressing the
overall scattering of an object
by covering it with a suitably
designed 'cloak'

.

Our group
has pioneered the use of
plasmonic

and

mantle

cloaks
for drastic scattering
suppression, envisioning
applications for camouflaging,
wireless communications,
non-invasive sensing, energy and optical
computing.
Metamaterial devices and components
Our group has proposed
several exciting concepts
to apply metamaterials
and plasmonics for novel
devices and components
that can manipulate
radio-frequencies, THz, optical and acoustic
signals in unprecedented ways. Noticeable
examples are our recent work on integrated
nanophotonic switches, memories and
polarizers, as well as on integrated
nonreciprocal devices not requiring magnetic
bias.
Jan. 5-9, 2014 - Snowbird, UT, USA
Invited talk at the 44th Winter Colloquium on
the Physics of Quantum Electronics
Feb.1-6, 2014 - San Francisco, CA, USA
Invited talk at SPIE Photonics West
April 21-25, 2014 - San Francisco, CA, USA
Invited talk at the MRS Spring Meeting
Optical nanoantennas and nanocircuits
Our group has introduced several innovative
concepts to tailor emission, radiation and optical
processing at the nanoscale.
Graded metasurfaces and
twisted metamaterials
We have introduced the
concept of nonperiodic
metamaterials and
metasurfaces with controlled
variations along an axis of
choice, providing new degrees of freedom for
light manipulation at the nanoscale.
Metamaterial modeling and homogenization
We have introduced several theoretical concepts
to improve the modeling and understanding of
the complex wave interaction with metamaterials
and metasurfaces.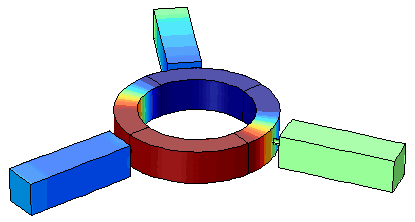 Welcome to

Andrea Alù's research group webpage
Andrea Alù

is an

Associate Professor

, and the

David & Doris Lybarger Endowed Faculty Fellow in Engineering

,
in the

Department of Electrical and Computer Engineering

at

The University of Texas at Austin

in Austin, TX, USA.
He is currently affiliated with the

Wireless Networking and Communications Group

, an interdisciplinary center for research and
education based in UT Austin with an emphasis on industrial relevance, and with the

Applied Research Laboratories

at UT Austin.
His research interests span over a broad range of technical areas, including applied electromagnetics, nano-optics and nanophotonics,
microwave, THz, infrared, optical and acoustic metamaterials and metasurfaces, plasmonics, nonlinearities and nonreciprocity,
cloaking and scattering, acoustics, optical nanocircuits and nanoantennas.
December 9, 2013:

Andrea Alù has been selected
as an American Physical Society (APS)
Outstanding Referee of the Physical Review and
Physical Review Letters journals, as chosen by
the journal editors.
December 3, 2013:

Two of our papers have been
accepted and are currently in press in Science.
Congratulations to Francesco, Romain, Caleb,
and Dimitrios!
November 26, 2013:

Our paper F. Monticone, and
A. Alù, "

Metamaterial-Enhanced
Nanophotonics

," has been published in Optics
and Photonics News, Special Issue for Year in
Optics

, Vol. 24, No. 12, p. 35.
November 25, 2013:

Andrea Alù has been
elevated to Fellow of the Insitute of Electrical and
Electronics Engineers (IEEE) for "contributions to
the theory and applications of electromagnetic
metamaterials and plasmonic phenomena".
November 11, 2013:

Our upcoming PRL paper on
non-Foster cloaking and our recent PRX paper on
cloaking bounds are covered by Time Magazine,
BBC, NBC News, Gizmag and Physics World,
among many others.