Linda Christianson
Living and working in rural Minnesota offers me a combination of pottery making and iternerate teaching. Working with a 2 chamber wood/salt kiln, a few clays, slips and glazes. I have been committed to the utilitarian pot. My occasional forays into other materials and ideas reinforce my need to return to the basics of pottery making. It surprises me that after nearly 25 years of making pots it is still a thrill and challenge to make a cup and pull a handle.
A pot that captures my attention over time is not unlike a favorite book revealing new layers of meaning each reading. The physical use of that pot is an added bonus. To hear the dull clunk of a spoon on a cracked but still serviceable favorite bowl is a delicate pleasure beyond words. The exterior of an unglazed baking dish develops a rich warm patina through years of being hauled in and out of ovens. Perhaps these are some of the best attributes of contemporary pots that can only be revealed through daily use.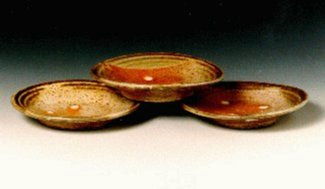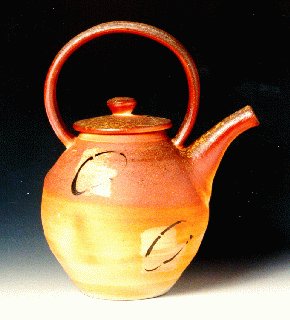 Kevin Crowe
My pots are wheel-thrown, raw-glazed, and single-fired in a 200 cubic foot, two-chambered, climbing kiln. The kiln is fueled with oak for 24 hours to cone 11, with just a touch of salt in the second chamber. The pots are functional, with strong Japanese and English influences. They are building bridges. Ranging in scale from 4-inch pots to 48-inch vases, my pots are for heart and home. The making and firing of 600 pots takes 8 weeks, when the moon is right and it is not soccer season.
The pots are diswasher and oven safe. No toxic marerials are used in either clay or glazes. I live and work in the Blue Ridge foothills, with my wife Linda and sons Kai and Bram. Rivers, rocks and magic. Drop by.