Michael Holter
I am woodfiring my stoneware and porcelain pots for a minimum of three days. Wood ash accumulates on the pots in patterns determined by the path the flame takes through 15 feet of pots filling the long tunnel-shaped kiln from just beyond the firebox to the flue. When the temperature reaches 2300 F, the ash begins to meft, fuse and even flow in rivulets down the walls of the pots in places where the buildup is thick and the temperature is very hot. Ultimately it freezes in place as the kiln cools. The wood flame also changes the color of the clay producing continuously varying patterns, marking forever the trail of the flame across the pots.
I think the strength of a good pot lies in the relationship among all of the details that accumulate during the processes of making and firing the pot. I try to think ahead as I work, visualizing how a pot will be stacked in the kiln, how the flame will mark it and even distort it or crack it. Each tool mark, each flame mark, each subtlety in form, weight and proportion and the relationships among them will contribute to the ultimate experience of using the pot.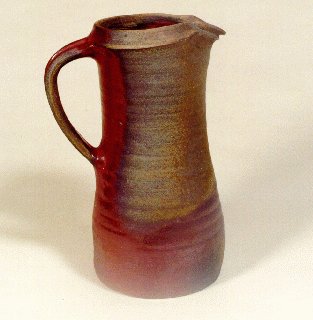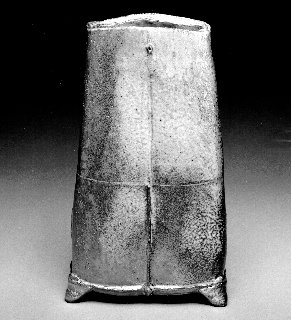 Randy Johnston
The clay becomes an intimate token of the artist and an intimate memory of the fire. The fire is an esential way of marking the surface and transforming the object and giving it life. The whole notion of firing the piece is its moment of transformation. When one looks at woodfired objects, the ideal would be to feel that one is witnessing intimacy and a sense of immediacy and energy-life informed by emotion.