---
Rosemary D. Wren & Peter M. Crotty
The Oxshott Pottery, Nutwood Steading, Strathpeffer
Ross and Cromarty, Scotland, IV14 9DT
+44.1997.421.478
---

Since man first discovered clay it has been used to express his kinship with the three worlds of which he is a part. Using potters' techniques, Rosemary and Peter make scuptural ceramics - Rosemary's work relating immediately to her surroundings, Peter's being mediated through a web of words.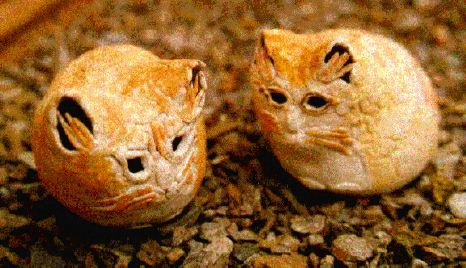 Working from her own drawings of living creatures, Rosemary makes shapes that follow the dictates of her personal method of construction - welding thin flat strips of clay into a hollow skin. Typical elements of patter incised into the soft surface make boundaries for glazes, matt and shiny, brush-painted after the first firing by either Peter or Rosemary. The second firing is to stoneware temperature - 1260C - in an oxidizing electric kiln.
For further details, see "Animal Forms and Figures" by Rosemary Wren, in the "Complete Potter Series" (B.T. Batsford) 1990. ISBN 0 7134 61276.