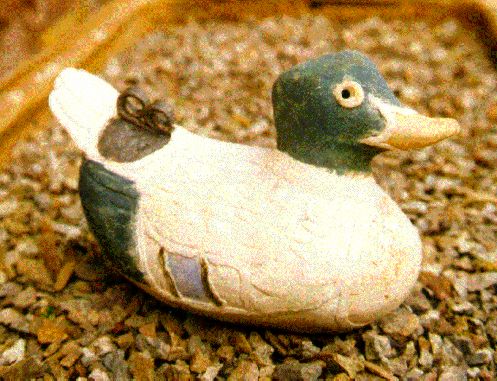 How to Find Us: Our workshop is still makeshift but potential customers are welcome to visit us. But please telephone beforehand. Strathpeffer is 20 miles north-west of Inverness. Cross the Kessock Bridge on the A9, follow signs to Dingwall, then turn left at the traffic lights for Strathpeffer (A834). Nutwood Steading is on the right up a long drive just before the 30 mph sign. Keep to the left past Nutwood house and you will see our listed Victorian coach-house and farm buildings on your right. Back in to park.



Rosemary Wren (b. 1922), after training at Guildford and the Royal College of Art, discovered her own interest in the potters' modeling to be found in museum Ethnological Collections, fused with her affinity for animals and birds and war-time work in the Women's Land Army at Chessington Zoo and small dairy farms. Her first solo exhibition was at Heal's in London in 1957, where one of her earliest birds - a hen - as well as a thrown bottle - was acquired by the Victoria and Albert Museum. Many further exhibitions have followed, outstanding being salt-glaze at the Berkeley Galleries - both animals and thrown pots - with Denise Wren in 1960 and 1961, the Commonwealth Institute (animals and sculptural bird-tables in raku, stoneware and porcelain in 1973), The Casson Gallery, Dartington Ciderpress, The Craftsmen Potters' Shop, Briglin Studio and Clarkson Gallery, Edinburgh. In 1965 she was invited to exhibit as a guest Artist at the Royal Scottish Academy by the Scottish Society of Women Artists and in 1962 was awarded a Gold Medal by the International Academy of Ceramics at Prague. Her socio-ecological statement "High House Farm", bought by Glasgow Museum in 1974 was one of the fore-runners of the present Highland Landscapes.
Rosemary was founding Chairman of the Craftsmen Potters Association of Great Britain and was awarded Honorary Life Fellowship in 1994 "in recognition of a long and distinguished career in ceramics". She was also concerned with the setting up of the Devon Guild of Craftsmen's Riverside Mill at Bovey Tracey.
Peter Crotty joined Rosemary at Oxshott in 1970 where they work together in all their various activities. He ahs a background of language study (including Sanscrit and Tamil at S.O.A.S) and collects books. His intensive phase of gouach painting led to the present infilled outline decorating technique. Peter is very busy making this old farm steading and coach-house into our new home and workshop. It will no longer be possible to separate making and decorating as before; but he will continue to pack even the most difficult shapes in his inimitable manner for super safe postage as usual.
Peter is a Fellow of the Craft Potters Association and Great Britain.