What I've been working on since March 2020: In response to the urgent local and global requirement for essential patient-focused medical equipment, a team of faculty, researchers, and students at UT Austin, Dell Medical School and the UT Health San Antonio developed a low-cost, reliable and effective medical breathing device — the Automated Bag Breathing Unit (ABBU) — a ventilator-like device that can be utilized when conventional ventilators are not readily available to provide life-saving support for patients with COVID-19 and other respiratory illnesses. The figure below shows three ABBUs in my research lab in EER5.822.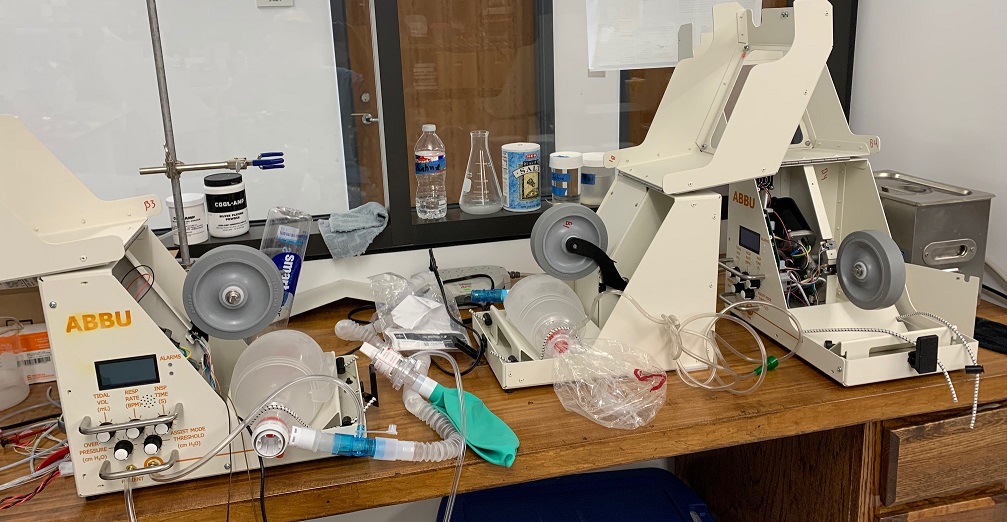 ---
Robot Systems Learning Kit was completely redesigned, The robot is now easier to build, more reliable, and has new functionalities. The ultimate goal of the learning kit is to design, build, and test a robot system capable of solving complex tasks. Example challenges include exploring a maze, racing autonomously, finding an object, and following a line. However, it is not the final robot that matters, but the educational journey that discovers a wide range of engineering principles along the way. Rather than just providing the robot kit and a challenge to solve, this curriculum follows an educational road map that intentionally exposes deep learning along the way. A new module was added summer 2020, based on the Pololu 3-Channel, OPT3101-Based, Wide FOV Time-of-Flight Distance Sensor for TI-RSLK (part number 3680). More information on RSLK August 2020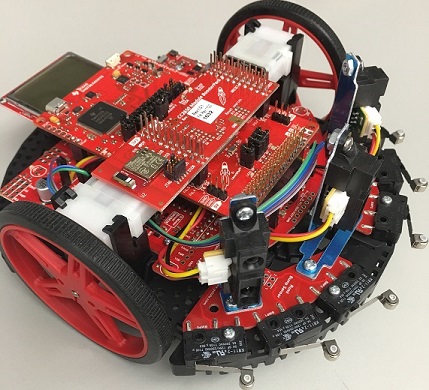 ---
Electro-Thermal Bioinstrumentation Laboratory and Sponsor Opportunities
Embedded system design, Biomedical instrumentation, cardiac volume measurement using electrical fields, and bioheat transfer
Measurements of pressure, cardiac volume, thermal properties, and blood perfusion. Also there is electrical and thermal modelling.
I got a wifi client system working with the low-cost ESP8266 wifi module for both TM4C123 and MSP432 microcontrollers. The project connects to an access point and fetches weather data from openweathermap.org. View the ESP8266.c file. Download project. Instructions to create your own data logging server using Google App Engine.

ASEE Workshop on IoT (wifi) slides Download materials as ASEE2015.zip June 2015
ASEE Workshop on IoT (BLE) slides Download materials as BLE.zip June 2016
ASEE Workshop on IoT (RTOS) slides Download materials as Valvano_TI_RTOS.zip June 2017
ASEE Workshop on Robot Systems Learning Kit slides Download the Android app More information on RSLK June 2018

Links to microcomputer related sites
Microcomputers, electronics, software, sensors, devices
---
EE385J.17/BME384J.2 Real-Time Embedded Instrumentation, last taught Spring 2009
Graduate lab class: Instrumentation and real time software. Prerequisites: Microcomputer interfacing, C, op amps, differential equations.
---
Embedded Microcomputer Systems: Real Time Interfacing, 3rd Edition, 2011, ISBN-13: 978-1111426255 Download all Teaching Materials
Textbook, Cengage Learning, Table of Contents, outline, extra questions, programs from the book, list of errors. 9S12 Starter files 9S12 boards/Metrowerks 9S12C32 programs
Introduction to Embedded Systems: Interfacing to the Freescale 9S12 Textbook, Cengage Publishing 2009, ISBN-10: 049541137X | ISBN-13: 9780495411376 Teaching materials Web videos of the Example lessons from the book Instructional Movies Table of Contents, Book errata, list of all errors
TExaS, Test EXecute And Simulate Hardware/Software Co-Simulator, integrated simulator including mechanical, electrical, digital and software components, used for designing embedded systems based on the Freescale 9S12 (UPGRADE to latest version). Instructional Movies Help System in Vista Help System in Windows 7
TExaS Robots version 1. 83b, a simulated battlefield for 50 9S12DP512-controlled robots (download the Trobots.zip file).
Developing Embedded Software in C Using Metrowerks, edited by Ramesh Yerraballi
On-line HTML textbook, overview of C programming for the 9S12
Example design solutions for embedded systems. Example files for the TI LM3S Microcontrollers Software and hardware solutions based on the Freescale 9S12 and the Texas Instruments LM4F120, TM4C123, and TM4C1294
Links to 6812 ICC12 C program examples
LED, LCD, RTI, OC, SCI, SPI, DAC, FSM, FIFO, PWM, threads, interpreter,
Developing Assembly Language Software using TExaS
On-line HTML textbook, overview of assembly programming for the 6811 and 6812
Introduction to Embedded Microcomputer Systems: Motorola 6811 and 6812 Simulation
Textbook, Thomson-Engineering, ISBN 0-534-39177-x, outline. Lectures, old exams, and other material
---
Architecture, Computer Systems, and Embedded Systems (ACSES) Advising
For Biomedical Engineering Advising contact Professor Soloveichik